Mersea Homes is Proud to Sponsor the 2024 Colchester Half-Marathon!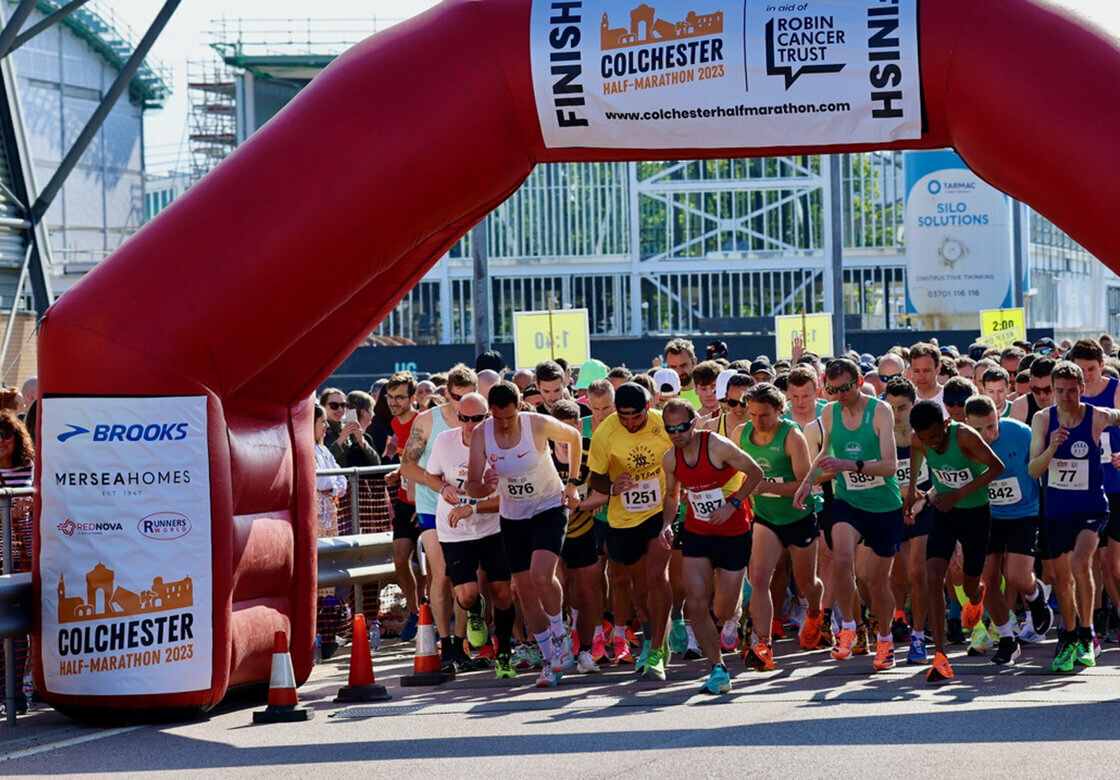 After an incredible turnout in 2023 that raised £43,000 for The Robin Cancer Trust, we are incredibly proud to announce that Mersea Homes are sponsoring the Colchester Half-Marathon for a second consecutive year.
This is a real honour for us because of our love for the Colchester community, which is why we chose it as the home of both our flagship Chesterwell Collection and the unique Horkesley Hamlet development.
What is the Colchester Half-Marathon?
The Colchester Half-Marathon is a landmark annual event that brings together thousands of energetic runners in support of The Robin Cancer Trust – a Colchester-based charity that helps educate and support young people affected by cancer all across the UK.
Being held on Sunday 17th March 2024, participants will begin their 13.1 mile run from Colchester United's JobServe Community Stadium at 9am, just a stone's throw from our Chesterwell community. From here, runners will make their way through the city, past some of Colchester's most iconic landmarks.
The money raised from this extraordinary event will further help The Robin Cancer Trust reach people with their campaigns and better support newly diagnosed young adults through the challenges they face.
How are we getting involved?
As well as providing financial support to help make this event a reality, several members of our Mersea Homes team are planning to run the half-marathon, just like we did last year.
You don't have to be a part of the Mersea team to represent our signature colours though. Whether you're a born runner or someone looking to get fit for a great cause, current Mersea Homes residents and friends of our community can register for FREE.
Get in touch with our team, let us know you want to be involved, and we can cover your cost of entry.
Where will participants run?
The course highlights everything that Colchester has to offer – from iconic city landmarks and quiet country lanes, to picturesque rivers and rolling Essex countryside.
If you're planning on taking part and need a place to train, North Colchester is a fantastic spot for you.With countryside trails, vibrant natural landscapes and the smooth roads of our Chesterwell community, this can help you acclimate to the conditions ahead of race day.

Ready to get your race on?
We look forward to the big day and hope you'll join us in supporting The Robin Cancer Trust for another year.
And remember, if you're a current Mersea Home resident or friend of our community, you can register now for FREE. Just get in touch, let us know you'll be taking part, and we'll cover your entry fee.
We hope to see you there!