Mersea Homes Shortlisted at Essex Housing Awards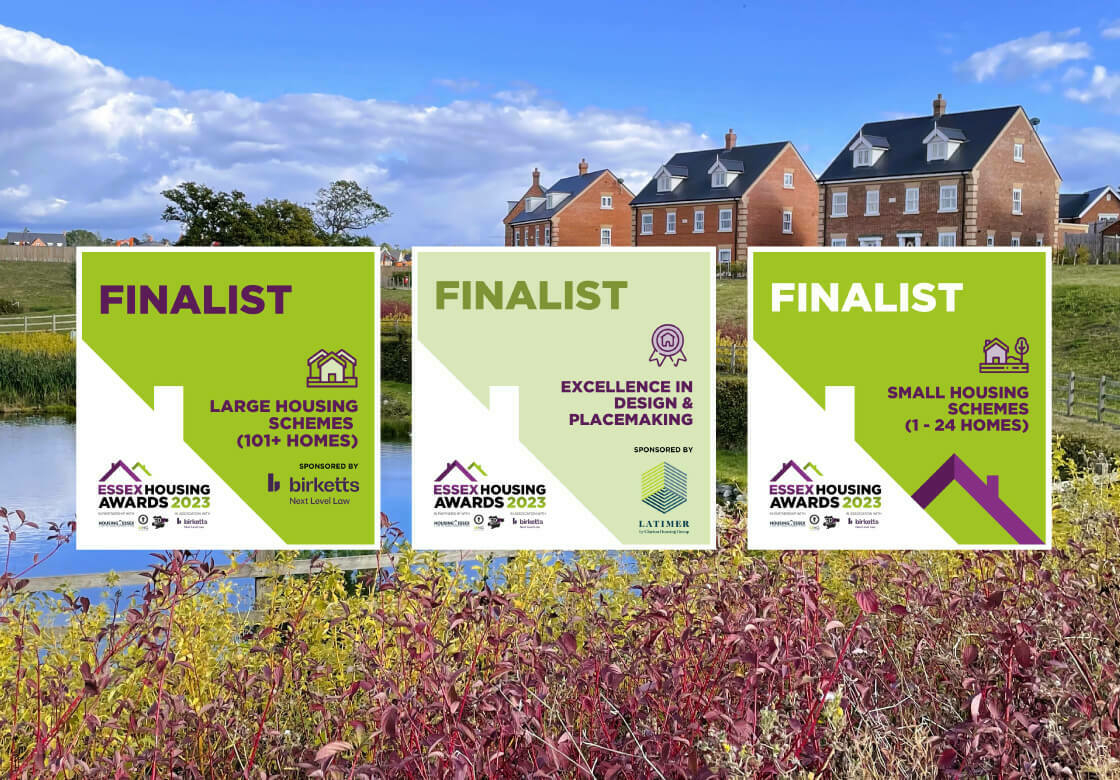 We are incredibly excited to announce that Mersea Homes has been shortlisted in three categories for the prestigious 2023 Essex Housing Awards.
Held to recognise high-quality developments, services and individuals from the public, private and voluntary sectors, these awards celebrate housebuilding excellence and promote best practice throughout the industry.
As a family-run housebuilder with over 75 years of service to our communities across Essex, it is an amazing honour to be recognised by this well-respected organisation.
Out of the 12 categories open to entry, we were announced as finalists in the following areas:
Large Housing Schemes (101+ homes)
Chesterwell, our flagship community located in the picturesque Colchester countryside, has garnered a spot on the judges' shortlist due to its substantial size and noteworthy role in addressing the housing needs of Essex, enhancing the perception of housing throughout the county.
Small Housing Schemes (25 – 100 homes)
Horkesley Hamlet, our charming and idyllic community situated in an Area of Outstanding Natural Beauty, was also handpicked by the judges for its contribution to Essex's housing demands. The deliberate design of our development aligned with the category's emphasis on improving the overall image of Essex's housing.
Excellence in Design & Placemaking
Additionally, Horkesley Hamlet earned a shortlist for the Excellence in Design & Placemaking award. This category recognises communities that embody the ambitions of the Essex Design Guide through distinctive, sustainably-built architecture that prioritises quality and excellence.
With unique, characterful designs behind each individual Horkesley Hamlet home, we believe it is fitting of this nomination and truly reflects the evolution of an Essex hamlet.
Starting the countdown to November
Stuart Cock, Managing Director at Mersea Homes, commented on our shortlists at the Essex Housing Awards: "We are delighted that the judges have recognised both Chesterwell and Horkesley Hamlet with a shortlisting in three categories at the prestigious Essex Housing Awards. We look forward to the ceremony on the 2nd of November."
With more than 75 years of experience delivering spectacular new builds, it gives us immense pride to see our efforts recognised – a testament to the exceptional commitment, diligence and expertise of our phenomenal team.
With the awards ceremony just a few months away, we eagerly await the judges' final decisions. If you would like to learn more about the developments that earned these nominations, visit our 'Find a home' page.