Why Outdoor Space is Vital in Building the Best Communities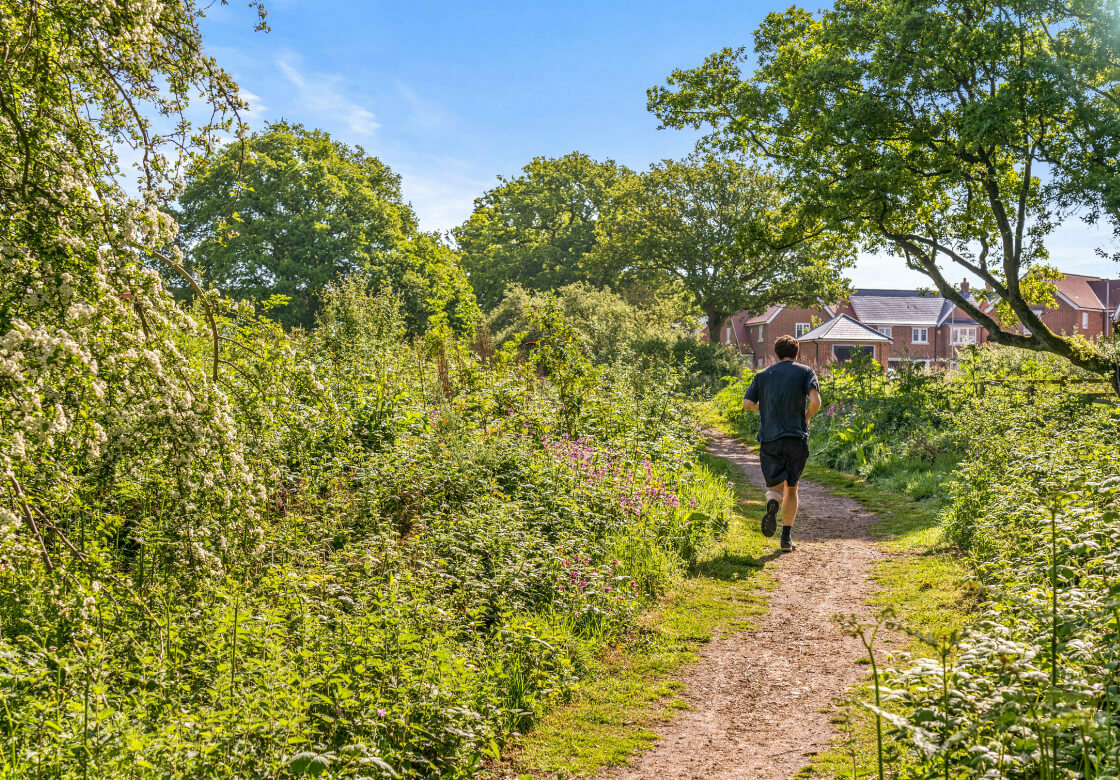 Green spaces hold a great deal of significance for us at Mersea Homes. As a family-run housebuilder with more than 75 years of experience, we recognise the immense value of nature in our urban developments.

If you're a homebuyer in search of a comfortable, sustainable place to call home, a community that incorporates these outdoor areas should be high on your list of requirements. Remember: where you live is more than just your house.
Not only are they essential in balancing the urban with the natural; green spaces provide communities with places to unwind, exercise, or simply spend quality time with family and friends.
The value of green space in community planning
The importance of green areas in neighbourhoods goes beyond connecting people with nature. Research shows that creating vibrant living environments goes a long way to enhancing quality of life through outdoor areas.
Boosts health and wellbeing
According to data from the UK government, access to natural areas benefits the health of more than 80% of people living in urban areas.

Being in nature helps people to relieve stress and improves wellbeing

Trees absorb sound and clean the air in the surrounding areas

Exposure to green spaces strengthens our immune systems
Improves community bonding
Outdoor spaces in housing developments also create a friendly environment that helps build cohesion by encouraging people from different backgrounds to explore hobbies, enjoy community events, and gather together.
These greater levels of social interaction in community spaces play an important role in promoting inclusivity, and help reduce stress and depression in neighbourhoods, according to letting and rental market insights.
Aids an active lifestyle
As well as building a sense of belonging in neighbourhoods, sustainable landscaping in housing projects enables those in close proximity to lead a more active lifestyle.
Whether you choose to go for walks in nature or play sports in the local park, regular physical exercise can improve the quality of your sleep, improve your mood, and reduce the likelihood of health problems, such as type 2 diabetes and osteoarthritis.
Encourages children to play
The benefits of parks and playgrounds on children are another reason why outdoor spaces are such desirable locations.
As well as offering safe spots for little ones to roam and explore, outdoor space enables children to enjoy some level of independence in their early years, and a chance to learn about the beautiful, natural world around them.
Protects the value of your property
When making the commitment to buy a home, safeguarding your investment is paramount. One effective way to do this is to consider the impact of outdoor spaces on property value.
Living near a park not only allows you to enjoy the exceptional advantages of these precious outdoor areas – it also has the potential to add as much as £67,000 to the price of your property.
Preserves the beauty of nature
Finally, community planning that incorporates green space helps preserve the integrity of these important natural environments, as well as the creatures that depend on them.
This helps to improve biodiversity in the area, and allows those who have a passion or interest for the natural world to enjoy and explore these spaces right on their doorstep.
How Mersea Homes incorporates natural space into our developments
We are firm believers that it is not just the quality of your home that makes a good housing development – it is also the diversity of your surroundings. That's why we incorporate green space as a central part of all our Essex communities.
From peaceful nature trails and vibrant parks that provide the perfect destination for days out, to wildflower meadows and regeneration sites that allow wildlife to thrive. We carefully cultivate environments in communities such as Chesterwell that complement our high-specification new build homes.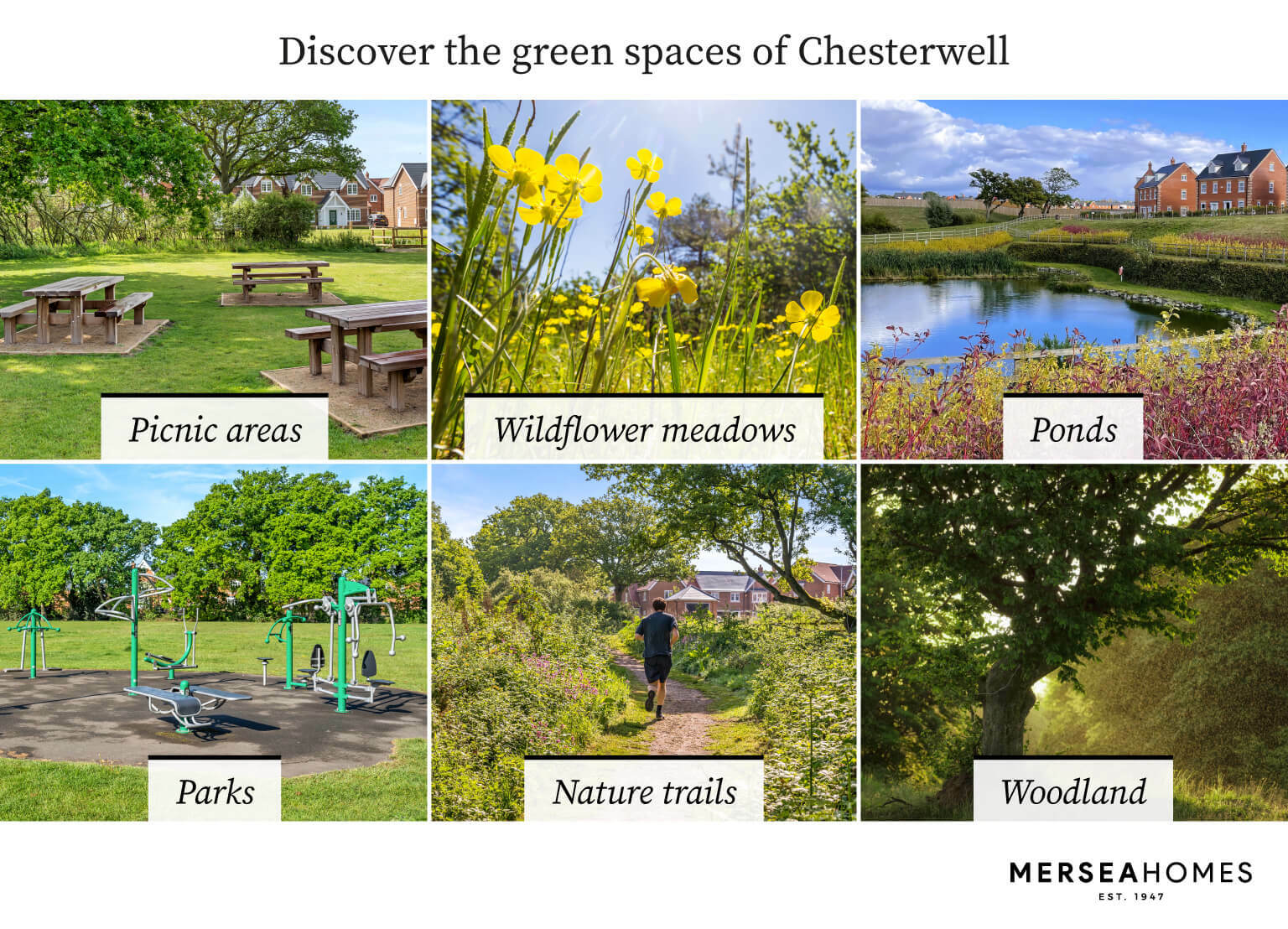 Delivering a perfect blend of exquisite urban planning and recreational space is more than just a promise to create the best communities for families, professionals and couples. It's also a commitment to preserve the natural splendour of the areas we build in.
When we began work on Horkesley Hamlet, the site – an Area of Outstanding Natural Beauty – was littered with industrial structures whose unsightly design damaged the heritage of the area and the adjacent listed buildings.
To rectify this issue and create a community that accurately reflected the incredible natural history of the area, we removed these unwanted structures and restored the landscape to its original beauty.
This involved replacing non-native species of flora with hedgerows and trees from the area. We also introduced new grassland and wildflower meadows, and supported local wildlife with amphibian and reptile refugia. New local footpaths were created to make movement easier for residents and the wider community too.
We take full responsibility for the environments we build in, and carefully consider the right approach to protect our cherished green space. This is an essential part of how we construct every project, and how we provide a well-rounded living experience for all of our residents.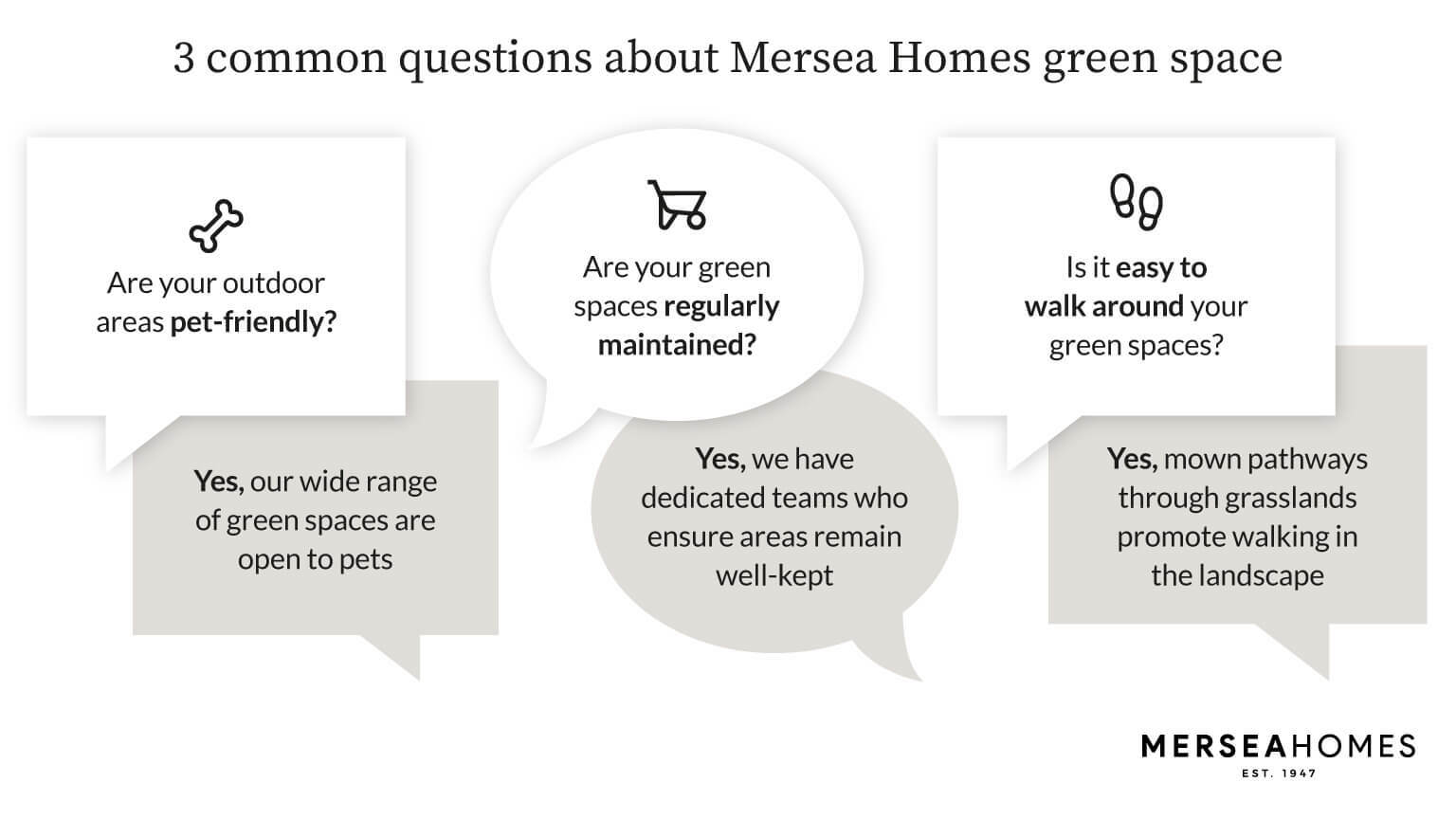 Discover some of the best housing communities in Essex
Could you see yourself living alongside the rolling hills of Essex, just a stone's throw from acres of thoughtfully landscaped green space?
When you buy with Mersea Homes, you choose a home at the heart of some of the county's most picturesque areas, effortlessly blending the best of the countryside with the amenities of luxury modern living.
Spacious new builds brimming with character. Elegant interior finishes that exude quality. Spectacular green spaces for all. Aftercare that goes above and beyond. Enjoy all this and more when you buy from a housebuilder with more than 75 years of experience.
For more information on our full range of premium new build homes in Essex, you can get in touch with our team today.