Mersea Homes is Proud to Sponsor The Colchester Half-Marathon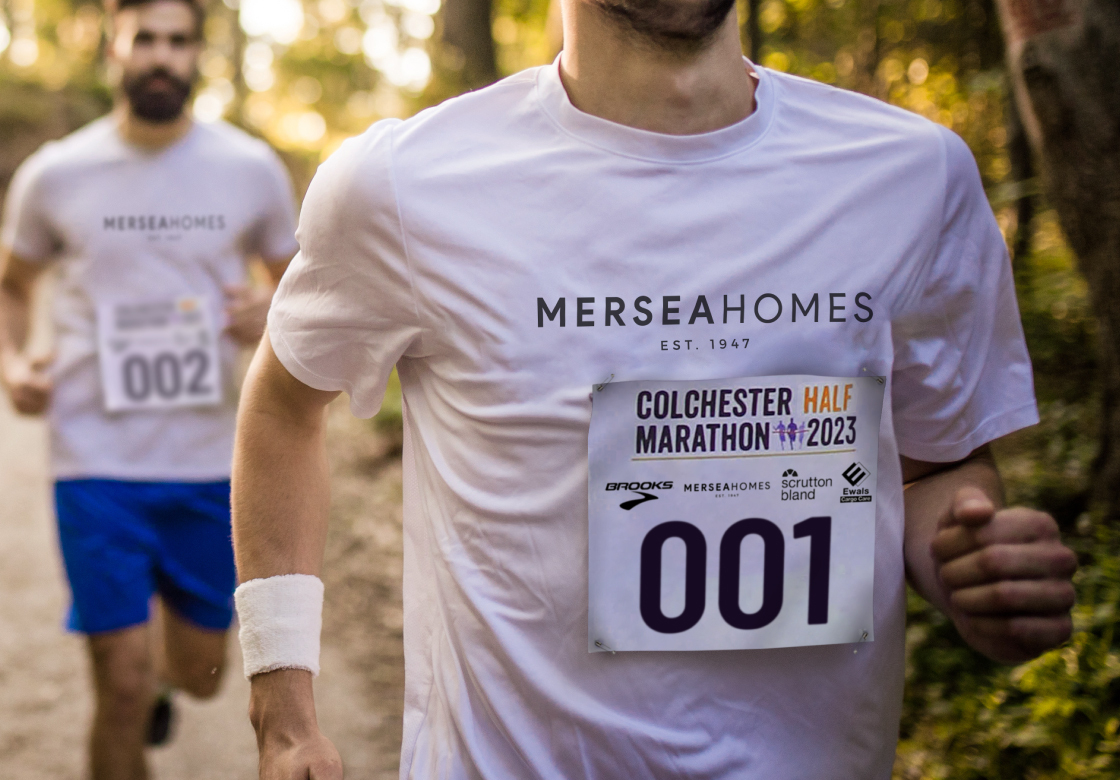 Colchester holds a huge amount of significance for our team at Mersea Homes. Our family-run business has been at the heart of many new build developments in the area over the decades, including several of our current projects – such as the groundbreaking Chesterwell Collection and the timeless Horkesley Hamlet.
That is why we are delighted to share that Mersea Homes are among the main sponsors of the Colchester Half-Marathon, one of the most anticipated events on the calendar. Bringing together locals in the spirit of fitness, friendly competition and raising money for charity, we are incredibly proud to play our part in supporting this incredible annual tradition.
What is the Colchester Half-Marathon?
Every year, The Colchester Half-Marathon sees 2,500 enthusiastic runners cover 13.1 miles through the city's scenic country lanes and vibrant urban spaces. With thousands more cheering every participant on, it is a brilliant occasion that sums up the amazing community spirit of Colchester – something we are privileged to be part of.
The 2023 event is being held on Saturday 21st May, starting at 9am at Colchester United's JobServe Community Stadium, just a stone's throw away from our Chesterwell site, running through the High Street and northerly countryside.
Proceeds from the Colchester Half-Marathon will go towards The Robin Cancer Trust – an amazing local charity working tirelessly to deliver education and support to young people affected by cancer.
How are Mersea Homes getting involved?
As one of the Colchester Half-Marathon's primary sponsors, we are providing financial support to help allow this fantastic event to take place.
But that's not all. Two of our team members are actively training to take on this 13-mile challenge. They are taking full advantage of our extensive Chesterwell and Horkesley Hamlet developments to shape up for this long, winding run.
If you're a keen athlete, or eager to support a great cause, why not join in yourself? We want to have as big a "Mersea" presence as possible at the event. So, if you live in one of our homes and would love to take part, we will pay the entry fee for you. No catch, no questions asked. Get in touch with our team, let us know you want to be involved, and we'll have you covered.
Plus, several members of our team will be set up at one of the four water stations along the route, handing out some much-needed fluid to all runners along the way. And of course, we'll be cheering on all participants throughout their journey, especially our Mersea group!
A route packed with local landmarks
The entire half-marathon route is lined with some of Colchester's most notable landmarks and destinations.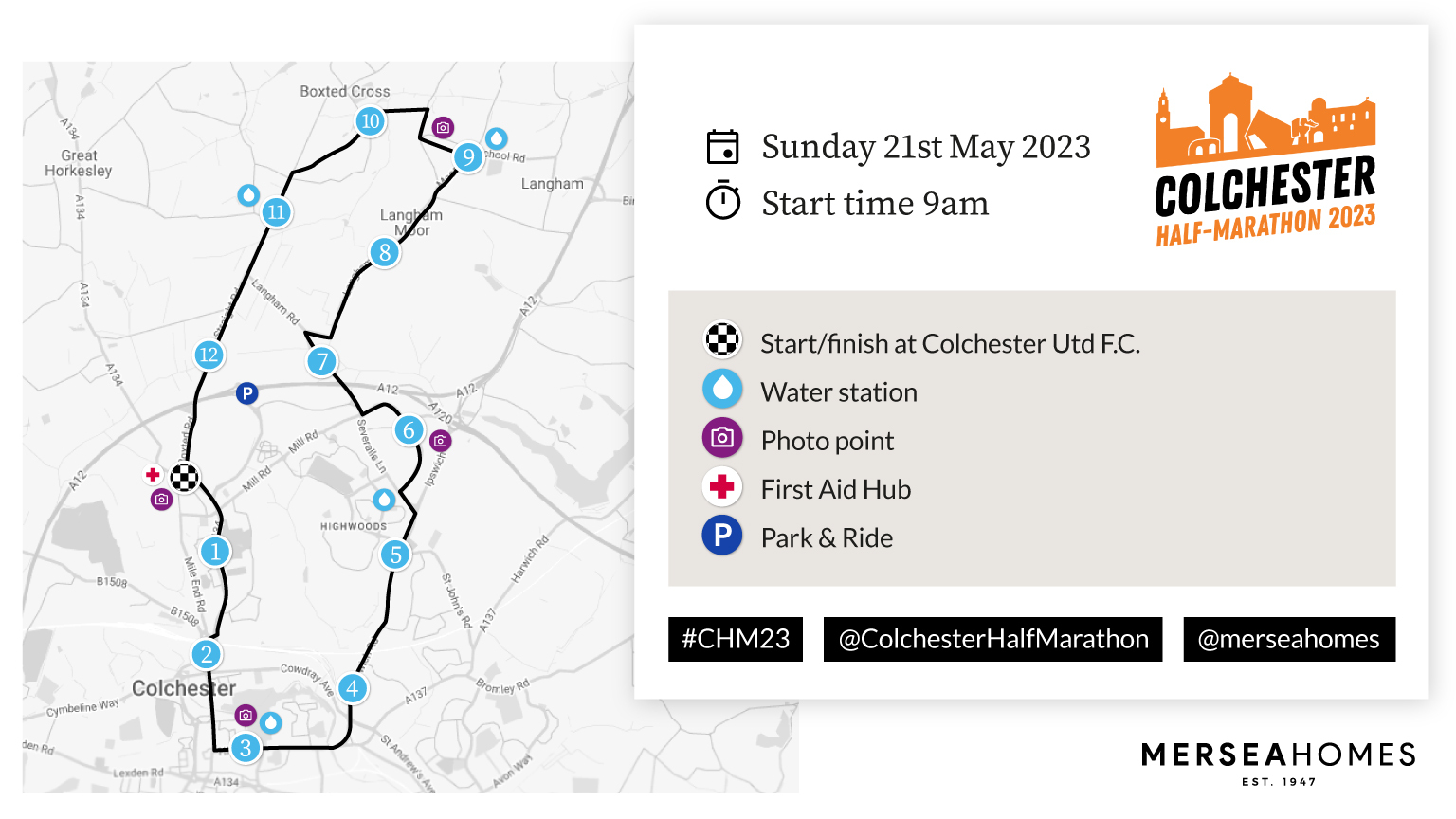 It starts off strongly. As you depart the JobServe Community Stadium, you will be on the outskirts of our outstanding Chesterwell site. Take in the elegant architecture and beautiful green spaces of our landmark location, and get a taste of why it's Colchester's No.1 destination for homebuyers.
After a long stretch and crossing the River Colne, you will find yourself running through the vibrant High Street, with the beauty of Castle Park and the historic Colchester Castle clear in view.
In the closing stages, you are enveloped in Colchester's breathtaking countryside, travelling north through Langham Moor, Black Brook and Boxted Cross.
It is a route that highlights Colchester's stunning natural landscapes and contemporary city culture, giving all runners a glimpse into why it is one of the UK's most desirable places to live.
Think you'd feel right at home in Colchester? Explore our 7 reasons to live in this extraordinary part of the country.
In training? Try our 10km Chesterwell route!
To make sure you're perfectly prepared for the blend of urban roadways and countryside lanes across the half-marathon, we've put together a fantastic 10km training route around North Colchester.
Starting from the historic Colchester Castle, you get up to speed surrounded by the natural beauty of Castle Park, and then cross the River Colne before following the Trackside Trail.
From there head up Mile End Road and Nayland Road towards our landmark Chesterwell development. Wrap around the streets of Chesterwell, enjoying its smooth roads and magnificent nature trails as you build up your fitness, before taking on part of the official Half-Marathon down Northern Approach Road to familiarise yourself with the terrain.
On the final stretch, push yourself along North Station Road back towards the river, through the town centre and along the edge of Castle Park, before coming to a well-earned stop back at the castle.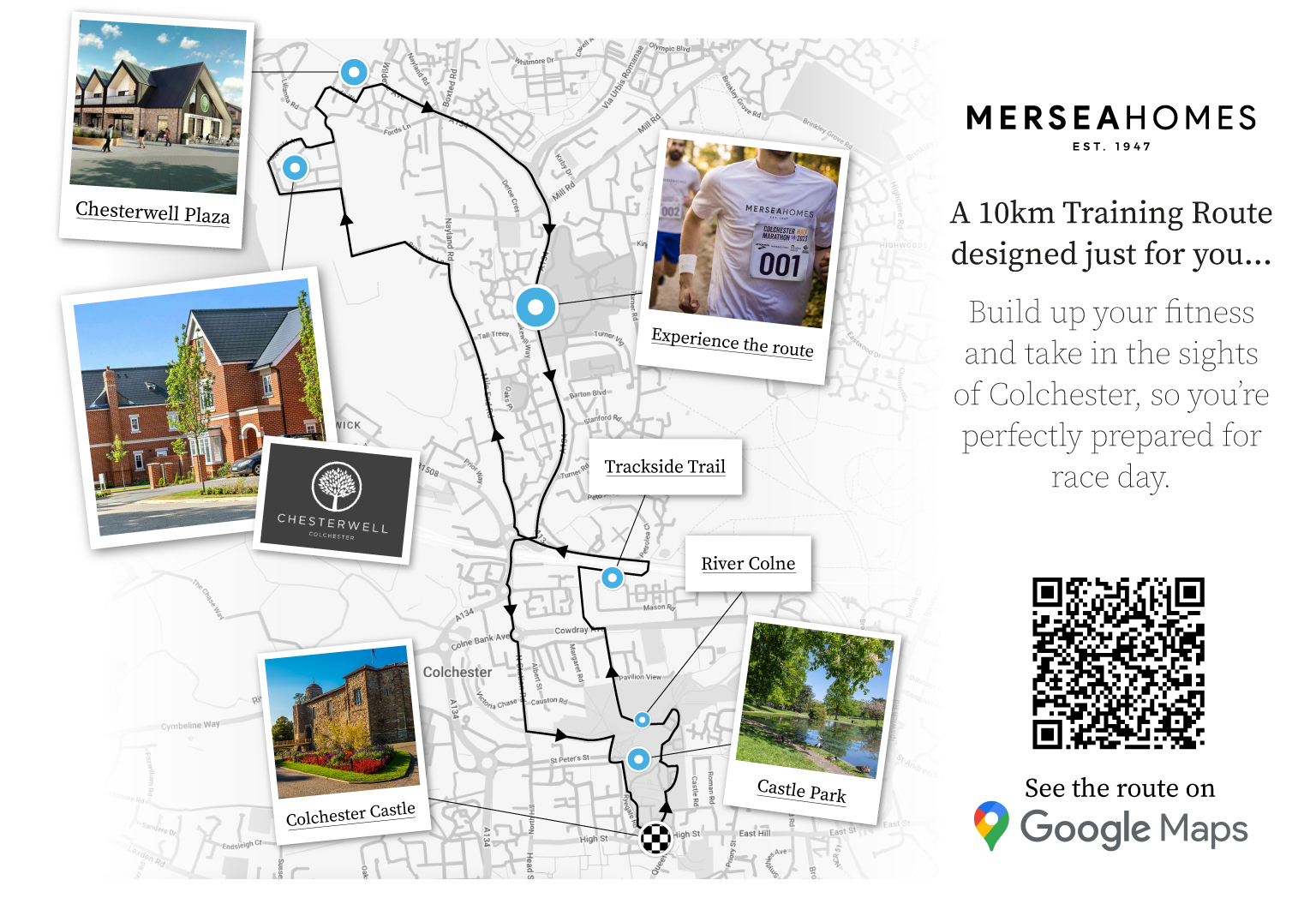 Use the convenient QR code to see our route in Google Maps. And if you need a break halfway through your journey, there's plenty of parkland and outdoor benches at Chesterwell for you to rest and rehydrate.
You are also more than welcome to look around our high-specification new builds, and take in the aspirational architecture and build quality that Mersea Homes are renowned for.
Our team members participating in the Half-Marathon are regularly using this route ahead of the big day, so say hello if you spot them on your journey. Better yet, they'd be happy to have a quick chat if you'd like to know more about our remarkable Colchester new builds or other new build home developments in Essex.
Get your running shoes on!
We hope to see as many people at the Colchester Half-Marathon as possible, and are very proud to be sponsoring such an incredible community event.
Remember, all current Mersea Home owners can register for FREE. Just get in touch, let us know you'll be taking part, and we'll cover your entry fee – no questions asked.
We look forward to seeing you there!